Article by | Brian H Feddersen @ aprivista.com
Voice-over services - Sound design - Music production - VO show-reel recording - Pick the right VO scripts 
for your voice - How to select scripts for your VO show-reel? - What microphone to use, dynamic or condenser? What microphones and gear do we use and recommend 
for VO recording?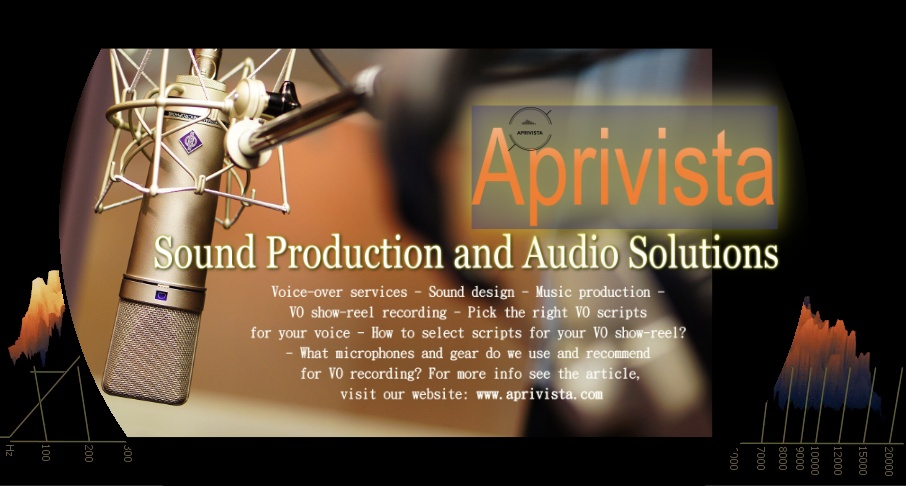 Voice-over examples in English, Danish and German, sound design and music production
Aprivista voice-over promotion video
Here are some examples of voice-over recordings in English, Danish, and German. The underlying sound design and music production were recorded and produced at Aprivista. We offer voice-over show-reel recording for VO actors and VO artists
Apart from obviously your voice, there are other important factors in recording a great voice-over or vocal recording. The microphone, the preamp, the recording environment, the vocal technique, the placement of the microphone and the scripts you chose are all components that play a role when recording the "perfect" vocal or voice-over performance.
Probably the two most important factors after your voice are the microphone and the environment that is used for the voice-over and vocal recording. Despite the magic an audio editing software can do, the quality of your microphone plays a big role in determining the overall quality of your voice-over recording.
What Microphone do voice-over actors use?
Large-diaphragm condenser microphone. Condenser microphones are considered the industry standard for voice actors. These microphones have very detailed and lively sounding middle and upper frequencies, they are more sensitive than a dynamic microphone and to get the optimal recording you should ideally have an acoustically treated recording environment such as a designated vocal booth for vocal and voice-over recordings. To achieve the optimal recording it is also advised to have a great preamp to record the microphone through. In a professional studio, they will have that special equipment to achieve the optimal recording level. Condenser microphones are also excellent for field recording, as they are more sensitive than dynamic microphones and have a flatter response that is suited to capturing detailed audio.
Dynamic microphones are often used in radio broadcasting or voice recording. They are generally easier to use as they don't require phantom power to work, however, you will need a good preamp to get the optimal recording levels. Dynamic microphones are good for general vocals that don't necessarily need accurate and smooth reproduction, such as interviews, hosting, and live venues, they produce a warm sound. They are suitable for podcast hosting, general voice recording. If your recording environment is not acoustically treated then a dynamic microphone could be an ok option as it does not pick up the acoustics of the room in the same way as a condenser microphone will do.  
 Today's microphone market offers a wide selection of microphones ranging in price and quality. Over the last decade the market has seen the emergence of many ok and low budget microphones for vocal and music recording, however, the price tag is often still a reflection of the quality you will get out of your microphone for your vocal recordings. So it is recommended and still worth the money to spend most of your budget on either a good condenser or a dynamic microphone. You have to weigh up whichever option fits your recording situation and what outcome you are after.

Examples of different condenser microphones and dynamic microphones often used by voice-over artists, and in professional studios, ranging from lower budget to more expensive ones.
Rode NT2-A, 

large-diaphragm condenser microphone

Shure SM7B, cardioid dynamic microphone
Røde NTK, large-diaphragm valve condenser microphone
Electro-Voice, RE20, large-diaphragm dynamic microphone
AKG 414C MKII, 

large-diaphragm condenser microphone

Neuman TLM 103, 

large-diaphragm condenser microphone

Neumann U87 Ai, large-diaphragm condenser microphone 
Voice-over show-reel recording for VO actors and VO artists.  How to prepare good voiceover scripts for a show-reel?
Voice-over show-reel recording for VO actors and VO artists. How to prepare good voice-over scripts for a show-reel. 
What scripts do I choose for a voice-over show-reel? Most voice reels are put together of 3 or 4 segments:
Corporate/ Narrative Reads (60 - 90 seconds) Corporate reads include online video courses,  training videos, telephone prompts, web site audio,...
Commercial Reads (60 - 90 seconds) They are reads for TV, radio, and online advertising campaigns. Voice-over for Ad campaigns is some of the most lucrative VO work available..
It is worth thinking about and working out which type of ads your voice is suited for. It is properly one of the most important things to spend time on and figuring out.
Documentary Reads (60 - 90 seconds) Documentary reads are often the most challenging. docs/scripts are a little trickier - but places to source your reads could be from TV listing websites and magazines
Character/ Animation reads (60 - 90 seconds) Anything goes here! So be creative in your choice of scripts/characters. If you don't do impressions, bring in or invent your own characters to the mix.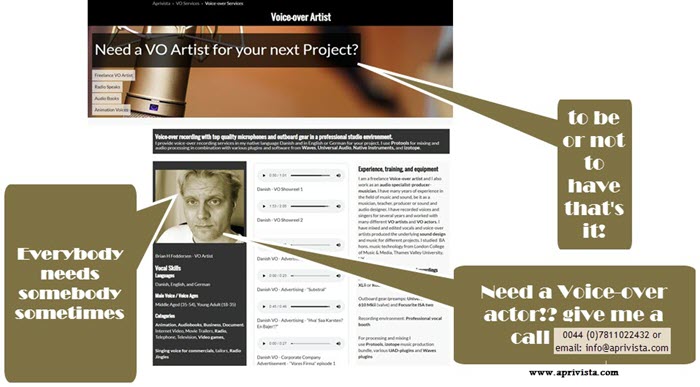 Voice-over actor Brian H Feddersen
Sourcing and writing your scripts
If you haven't already been employed as a professional VO artist and you are starting from scratch then the answer is to write the scripts yourself,  do some research into writing them and be creative. The process can be super-easy and quite fun as well. Use YouTube, Google, websites, commercials anything really as an inspirational starting point. Browse your chosen website and copy and paste a few paragraphs of relevant text, tweak it, change the brand name along with any other trademarks and you're good to go. 
At Aprivista we record vocals and voice-overs with quality microphones and preamps in an acoustically treated recording environment for the best possible results.
Studio Equipment
Microphones: Neumann U87 Ai, 

 

AKG C414 XLii

 

and

 

Røde NTK Valve mic
Preamps: Universal Audio LA-610 MKii

 

and

 

Focusrite ISA two
Monitors: Genelec 8040B, Sennheiser HD600
Headphones: Beyerdynamic DT150 
Mixing & Audio processing: UAD plugins,

 

Waves plugins, and

 

izotope music production bundle
Software: Protools  
All voice recordings are recorded in a professional acoustically treated vocal booth 
We also offer music and sound design production for your VO show-reel, promotion, or marketing content. Audiovisual marketing
 

is an effective way to promote your products via your website or other online platforms. 
We use Protools as the main DAW
We record with high-quality mics, outboard gear, instruments, and amps.  
We have access to various virtual instruments such as

 

Native Instruments Komplete Ultimate

 

and various other virtual instruments within Protools
For music processing and mixing, we use Protools, izotope music production bundle, various UAD-plugins, waves plugins and SSL Native Plugins  
An article about voice-over recording - Pick the right VO scripts for your voice - How to select scripts for your VO show-reel? - What microphone to use, dynamic or condenser? What microphones and gear do we use and recommend for VO recording?https://t.co/dM8OrRvtnv pic.twitter.com/vJW8n7FElB

— Aprivista (@aprivista) June 1, 2020